Korin's new laser engraver machine is now available! You can now personalize knives by engraving names and messages on the blade in" Lucida Calligraphy" font.





Price: $15 per knife or $10 for 2 knives or more.

How to request engraving services on your knife
1. Please add "KNIFE-W-E-ENG" into your cart. The service/item can be found through the global search located on the top right by typing "engrave" or "KNIFE-W-E-ENG".
2. If you wish to have more than 1 knife engraved, please update the quantity.
3. Once you have added all your products into the shopping cart please proceed to checkout.
4. At the end of the checkout page there will be a field called "Customer Comment".
5. Please type in the sku of the knife that you wish to have engraved and please type in what you wish to have engraved.
*For reference please view the image below
*Korin will engrave up to 15 characters on Western style knives and up to 9 characters on traditional Japanese style knives.

Star 1: As the quantity for KNIFE-W-E-ENG is set to "2", you will be able to engrave up to 2 knives
Star 2: Represents the item name HKR-SKYA-270-R will be engraved with the text "Text Example"
Star 3: Represents the item name HKR-HDSA-180 will be engraved with the text "Text Example"
6. Once you are done please hit the "submit order" button.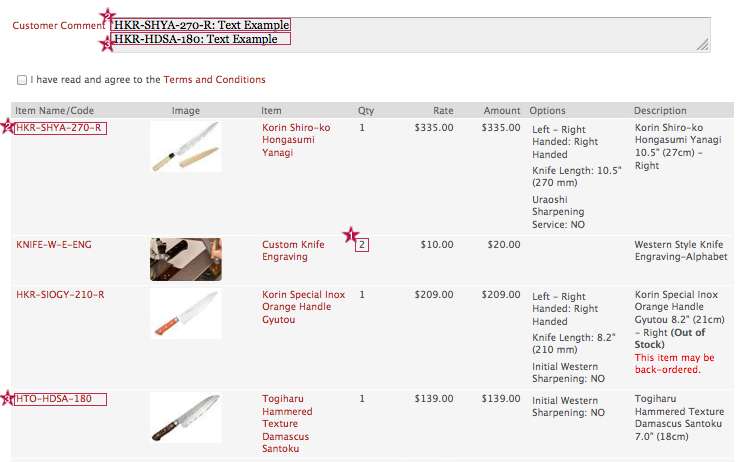 Characters are case sensitive.


Engraved and/or sharpened knives cannot be returned or exchanged.



If you have any issues or questions please feel free to contact our customer service team via e-mail at custserv@korin.com or by phone at 212-587-7021.