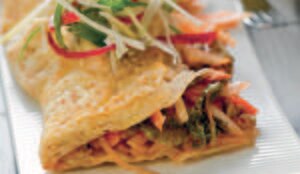 Omelette for Dummies

Butter 30 g (1 oz), melted
Cream (optional) 1 Tbsp
Eggs 3
Cooking oil 2 Tbsp
Grated cheese or baby spinach to serve
• Add the butter and cream into the eggs. Beat slightly with a fork. Heat oil in a pan and add
the egg mixture. Tip the pan to distribute the eggs, so they completely cover the bottom. As it
starts to firm up, run a spatula under the edges, bunching the mixture toward the centre so the
remaining liquid can cook. The eggs should cook slightly yet still remain moist on top.
• If desired, fill the omelette with your favourite topping—grated cheese and baby spinach are
firm favourites. Turn off the heat and fold the omelette. Slide it onto a plate. Serve immediately.
Omelette with Pickled Chilli Vegetables Serves 2
Omelette (see previous recipe) 1 serving
Pickled vegetables (see below recipe) or store-bought KimChi works
About 80 g (3 oz), roughly chopped
Spring onions (scallions) to garnish, thinly sliced
Red chillies to garnish, seeded and thinly sliced
Toasted sesame seeds (optional) to garnish
• Make the omelette as above but before folding it, add the pickled vegetables or kimchi.
• Remove omelette immediately from the pan so that the vegetables remain crunchy. Garnish
with spring onions, red chillies and sesame seeds. Serve with rice.
Pickled Vegetables
White wine vinegar 250 ml (8 fl oz / 1 cup)
Japanese rice vinegar 4 Tbsp
Castor sugar 2 Tbsp
Sea salt 2 Tbsp
Bird's eye chillies 2, seeded and finely sliced
Carrot 1, large, peeled and cut into thin strips
White radish (daikon) 1, small, peeled and cut into thin strips
• Combine white wine vinegar, Japanese rice vinegar, sugar and salt in a small pot and bring the
boil. Remove from heat and stir in the chillies.
• In a sterilised jar, add carrot and radish. Pour in pickling liquid and leave to cool at room
temperature.
• Cover with lid and fl ip jar upside down. Place in the refrigerator for at least 2 days before
eating.